Honoring Our Region's Trailblazers
Leadership Center for Excellence held its first 40 Under 40 event in December 2014. This event recognizes 40 emerging leaders under the age of 40 who demonstrate impact personally and/or professionally through their exceptional leadership in the DC metropolitan region. 40 Under 40 is an opportunity to show support for and invest in this next generation of trailblazers.
For its inaugural event in December 2014, we received approximately 250 nominations to fill 40 spots. Additionally, the event sold out well in advance of the luncheon date and again in 2015, 2016 and 2017. Each year, we see impressive cohorts of trailblazers join our group of 40 Under 40.
40 Under 40 is an initiative of Leadership Center for Excellence in partnership with Arlington Chamber of Commerce, Arlington Economic Development and InsideNoVA.
2019 40 Under 40 Nominations are open. Click here to nominate an exceptional individual.
Criteria for awardees is:
• Live or work in the DC metropolitan region
• Be under the age of 40 at the time of the event (October 18, 2018)
• Demonstrate impact through their leadership personally and/or professionally
Sponsorship Opportunities
Since its inaugural event in 2014, this event has sold out every year with more than 250 people registered. Want to gain exposure from this event? Sponsorship opportunities are available. Please contact Liz Nohra, COO, at lnohra@leadercenter.org or 703-528-2522.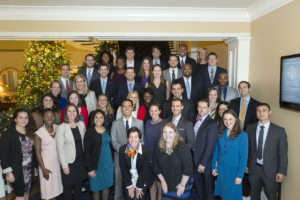 "Being recognized by the community for my accomplishments and contributions to Arlington County is such an honor. I am excited to be working with Leadership Center for Excellence to continue growing the next generation of leaders." – Elizabeth Jones Valderrama, 2014 Honoree
2017
Robert Blake, Blake Willson Group
Wilmer Castro, Arlington Public Schools – Arlington Career Center
Hector Cendejas, City of Manassas Park
China Dickerson, NARAL Pro-Choice America
Maribel Duran, The Aspen Institute
Nikki Ferraro, HITT Contracting
Jennifer Fioretti, Arlington County Government – Department of Parks and Recreation
Lynsi Garvin, Virginia Hospital Center
Amina Gilyard James, Influence by AG
Phillip Green, Green Powered Technology
Karim Guirguis, American Bankruptcy Institute
Molly Haines, Arlington Public Schools – Hoffman-Boston Elementary School
Katharine Hale, Arlington Public Schools – Gunston Middle School
Katie Hickey, Caliber Home Loans
Francis Homer, Whiting-Turner
Megan Jordan, Oceana
Alex Karkeek, Cassaday & Company, Inc.
Mercedes Kirkland-Doyle, The Good News Community Kitchen
Paul Kohlenberger, Greater McLean Chamber of Commerce
Patrick Kunze, GHT Limited
Roy Lee, Accenture
Nicole Lewis, Generation Hope
Jacqueline Malkes, SAS Institute
Molly McIntosh, CNA
Alison McNeil, McNeil Creative Enterprises
Jennifer Mellon, Trustify
Adele Nelson, Share Our Strength – No Kid Hungry
Liz Norton, NAMI
Yadira Sanchez, Mi Familia Vota
Michael Spotts, Neighborhood Fundamentals, LLC
Aubreana Stephenson Holder, Federal Management Systems, Inc.
Camille Stewart, Deloitte
Chris Sundlof, Arlington Community Federal Credit Union
Elinor Tesfamariam, Plenpovo Law, PLLC
Charles Thomas, Data Intelligence
Danielle Vogel, Glen's Garden Market
Andrew Watson, Alexandria City Public Schools
Shanta Whitaker, LMI
Zuberi Williams, Maryland State Judiciary
Slavomir Zapata, Department of Veterans Affairs -Washington DC VA Medical Center
2016
Margarita Benavides, Children's Adaptive Team Sports
Jonathan Beninson, House of Genius
Alexandra Bocian, John M. Langston Citizen's Association
Paul Bui, Arlington Public Schools – Washington-Lee High School
Nicole Callahan, U.S. Department of Education's Office of Federal Student Aid
Brett Cooper, Service Employees International Union
Tim Denning, STG, Inc.
Traci DeShazor, Office of Governor Terence R. McAuliffe
Jeremy Ferrara, Mount Daniel School
Jennifer Galloway, Wolcott Hill Group
Mary Goldsmith, RSM
Ashley Hammond, Educational Theatre Company
Angela Kasey, AmeriKraft Beverage Company
David Kinney, Kinco, LC
Courtney Kissell, National PTA
John Kusturiss, Penzance
Anette Levano, Arlington Public Schools – Barcroft Elementary
Robert Mandle, Crystal City Business Improvement District
Amanda Martin, Winston & Strawn LLP
Nathaniel Mauer, America's Future Workforce
Garrett McGuire, Air-Conditioning, Heating, & Refrigeration Institute
John Meehan, Bishop Denis J. O'Connell High School
Michael Mesmer, Kodiak Realty Services LLC
Joy Myers, Arlington Food Assistance Center
Vivek Nakarmi, Pentagon Mixed Martial Arts
Kathryn Oberg, Arlington Public Library
Taryn Overman, Virginia Hospital Center
Harold Pettigrew, Washington Area Community Investment Fund
Meg Rapelye, Phoenix Bikes
Jomanda Richards, Arlington Public Schools
Annie Rinker, Carr Workplaces
Tim Riordan, Northpoint Realty Partners
Margarita Rozenfeld, Incite International
Cameron Snyder, Arlington Public Schools
Lauren Stovall, Amazon Web Services
Lori Ann Terjesen, Children's Science Center
Darren Tully, Freedom Bank
Matisa Ullrich, Ullrich's Cleaning Services
Christine Wilson, MtoM Consulting
Tim Winter, Paradigm Building Group
2015
Tom Bartlett, The Boeing Company
Jessamyn Berniker, Williams & Connolly LLP
Gabrielle Bosché, The Millennial Solution
Eric Brescia, John Vihstadt for County Board Campaign
Steven Brown, Washington-Lee High School
Alayna Buckner, Elevate
Sheyna Burt, The Law Office of Sheyna Nicole Burt, PLC
Emmanuel Caudillo, White House Initiative on Educational Excellence for Hispanics
Charles Clancy, Virginia Tech
Danielle Craddock, Girls Inspired & Ready to Lead, Inc.
Katie Cristol, Katie Cristol for Arlington County Board
Lyndsey DePalma, House of Steep
Kristina Dorville, Department of Homeland Security & Washington-Lee High School
Sara Duke, Encore Stage & Studio
Beatriz Duque Long, Epilepsy Foundation & Junior League of Northern Virginia
Moley Evans, EverWonder Camps
Mark Fedorchak, The Liberty Tavern
John Goldener, Crumpton Group
John Grant, Pew Charitable Trusts
Brodie Gregory, PDRI, a division of CEB (Corporate Executive Board)
Julie Huang, Tucker The Falls Church Episcopal
Sara Jaffe, Wolf Trap Foundation for the Performing Arts
Jennifer Meder, Willis Towers Watson
Courtney Mesmer, American Telemedicine Association
Maureen Nesselrode, Arlington Public Schools
Koube Ngaaje, Arlington Food Assistance Center
Kyriakos Pagonis, Murray, Montgomery & O'Donnell
Shy Pahlevani, LiveSafe, Inc.
Devanshi Patel, Patel & Williams, PLLC
Veronica Perez-Perea, Arlington Public Schools
Evan Pritchard, Walsh, Colucci, Lubeley & Walsh, P.C.
Courtney Reeve, Aspire! Afterschool Learning
Angela Rose, Promoting Awareness | Victim Empowerment (PAVE)
Jane Rudolph, Arlington County, Department of Parks & Recreation
Kevin Shooshan, Shooshan Company
Eugene St. Clair, Humanproof, LLC
Alex Tremble, Jr., GPS Leadership Solutions
Zach Wahl, Enterprise Knowledge
Megan Wheeler, Washington DC Veterans Affairs Medical Center
Sheila Yosufy, Cardinal Bank
2014
Salim Adofo, National Black United Front
Nyambo Anuluoha, Arlington Community Federal Credit Union
John Ayers, REDLattice Incorporated
Mike Barnes, YHR Restaurant Group & BluePrint IT Solultions
Sindy Benavides, League of United Latin American Citizens (LULAC)
Katherine Bianco, DC Modern Luxury Magazine
Scott Brodbeck, Local News Now LLC
Ginger Brown, Arlington County Planning Commission
Billy Buck, Buck & Associates, Inc.
Nadia Conyers, Arlington Employment Center, Arlington County Government
Jeffrey DiLisi, Virginia Hospital Center
Laura Gamse, Daydream Reels
Erikka Gleckel, Deloitte Consulting, LLP
Scott Gold, IBC, a DBS Company
Nick Gregorios, Avison Young
Chris Hamm, U.S. General Services Administration FEDSIM
Julia Hamm, Solar Electric Power Association
Sarah Hillware, Girls Health Ed & Cumulus Media
Paul Holland, Marstel-Day LLC
Jennifer Hovis, U.S. Environmental Protection Agency
Melissa Impastato, Clark Construction Group LLC
Krysta Jones, Congressman Jim Moran/US House of Representatives
Elizabeth Jones Valderrama, Offender Aid and Restoration (OAR)
Kim Klingler, American Society of Clinical Oncology (ASCO)
Matthew Kulkin, Steptoe & Johnson LLP
Dania Matos, Latinas Leading Tomorrow
Ann McCarty, Arlington County Public Schools
Ron Novak, Segue Technologies, Inc.
Joseph Petty, Crystal City Business Improvement District
Mike Richardson, Chain Bridge Bank
Kate Roche, Arlington Chamber of Commerce
Andrew Schneider, The College of William & Mary – Raymond A. Mason School of Business
Kelly Shooshan, The Shooshan Company
Marcio Silveira, Pavlov Financial Planning
Terron Sims, II, District Equity, LLC
Paul Singh, Disruption Corporation
Elaine Turville, Accenture
Andy VanHorn, The JBG Companies
Kedrick Whitmore, Venable LLP
Steven Yates, Opower